Not only can travel be difficult, but when you've got children in tow, it can be even more of a headache. If you're going to be traveling with kids, driving yourself is tough. Trying to keep them occupied, entertained, and quiet enough so you can pay attention to the roads, traffic, and directions on what can often be pretty confusing roads around the tri-state area.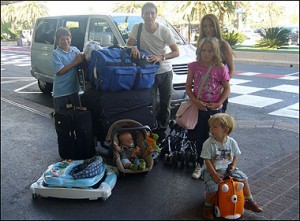 For those that are looking for CT airport transportation should book because of the ease and convenience, offering you the ability to enjoy a professionally chauffeured ride to and from any of the nearby airports! Find many great vehicle options including town cars, SUVs, vans, and even stretch limousines to get you to and from your flight at ANY time of day with 24 hour transportation with CT limousines.
Car seats like toddler and booster seats can be provided for kids that will be traveling so that you don't have to worry about carrying around a car seat with you while you're traveling. Vehicles can be equipped with these car seats upon request at no additional charge with you travel with limousines in Connecticut.