Whether you're  looking for  a mall or a theater show Connecticut has a great variety of shopping areas and places you just have to visit. With Limousines of Connecticut you can experience them all, here our Top 5 shopping areas and places to visit in Connecticut
Check out the top 5 Shopping areas in all of Connecticut

This is a fantastic mall that has tons to offer and is six stories.  You can find all of the great shops Pandora , H&M, Apple and Bath & body works. You also have a fantastic restaurant like the capital grille, Kona grill  as well  as P. F. Changs. Thanks to its large selection of options it's a great place to browse and and grab a bit to eat.
One of the Highlight to the Danbury Fair Mall is all the events that go on. The mall was built on the Danbury fair grounds and the mall still hold many events, such as family fun night and others year round. It boast a large selection of shops as one of the largest malls in Connecticut so go out and do some retail therapy.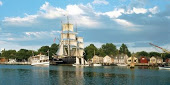 With its old ship and The museum of America and the sea, this port is a must stop destination when your in Connecticut. Stroll through the old ship and catch a threature production set back in the old times. Take in the museum exhibit  followed by lunch at a local restaurant as an easy weekend treat. This is a great stop for families and history lovers you will find so much charm and places to explore.
Another great beach and family destination to check out while in new London, Ct.  There's the beach, volleyball and play area as well as beautiful hotels to check out. A great stop for a family weekend and the boardwalk to check out at night. Did we mention that it was rated one of the best beaches by National Geographic.
With its great location in New Haven, the Schubert theater is ideal spot for a night out. With a great selection of award winning plays and musical, from the book of Mormon and to family friendly options  like Clifford the big red dog. The theater also offer backstage tours, which is an amazing experience with its history.