Always popular with corporate and tourist travel, professional limo services are also finding an influx in services for travelers needing last minute rides, especially during peak travel hours of the day, or those with poor weather conditions. Typically it can be tough for travelers to flag down a taxi during the middle of the day, when travel is most typical, or when the weather is bad because more people are apt to take a taxi than drive themselves.
Because the availability of taxis is inconsistent, many travelers are saying they would prefer paying a little extra for a limousine service from the airport when other options are scarce. Limousine operators are noticing this trend, especially for a lot of one-way trips to and from the airport midday.
Although transportation is available by services like Limousines of Connecticut to airports like JFK, LGA, BDL, EWR, and BOS, they are certainly some constraints. Unlike taxi services, many private limousine companies have much smaller fleets in comparison and sometimes there is not a driver immediately available at a nearby airport or nearby city. Passengers may have to end up waiting 30 minutes to an hour or more depending on what type of service they're looking for. Because many bookings are already made in advance, accommodating last minute reservations can sometimes be a conflict, as The Straits Times reports, "With much smaller fleets than taxi companies, and with most of their vehicles slotted into advance bookings, these last-minute requests can be highly disruptive and make scheduling difficult."
There is also a fear on the side of the limousine operators worried that in the time it may take their driver to get to the airport, the passenger may have gotten anxious and opted for another alternative home. Because limousine services operate differently than taxi companies, limousine services are not legally allowed to accommodate any unscheduled street pick-ups from passengers flagging for a ride.
Last Minute Rides Provided by Services like Limousines of Connecticut
However, transportation with airport limousines can still be one of the most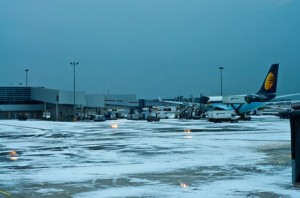 accommodating and reliable options out there, and many even find it to be relatively affordable, especially when traveling with multiple passengers. Share travel with a luxury town car, executive SUV, or a variety of other transportation options available for airport transportation in the tri-state area.
Although much of the transportation with luxury limousine services is booked ahead of time for corporate clients of tourists new to the area, being able to accommodate last minute transportation during peak hours and on rainy days has been a great way to grow the client base for local limousine transportation services.