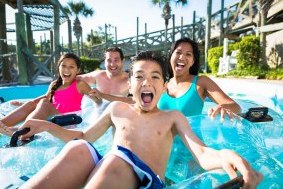 When your looking for some family fun in Connecticut count on some major towns to offer you a variety of options. Know the exact places that you're kids can go to cut lose and let out some much needed energy!
Fun in Norwalk Connecticut
When visiting Norwalk, CT, you might notice that the town is family oriented which is great to keep your kids busy. Keeping you're children busy means less stress for the parents which is what we at Limousines of Connecticut love to see. A great place to take your kids in the town of Norwalk is Stepping Stones Museum for Children. Here you can enjoy many fun programs and activities with your children. You can also take a look at their weekly learning schedule to select what special drop in times and days are best for you and your child.
Check out what surrounds Norwalk with you're children
Travel further up Connecticut and find yourself splashing it up at Quassy Amusement & Waterpark. This waterpark has been named the best and affordable family fun in the area. This lake has been home to horse stalls, trolley lines, and clam bakes in the early 1900's.
Here are some other fun idea in Connecticut that you should definitely look into: