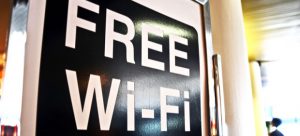 Advocates of transportation are asking for favors but are they asking for too much? They are requesting that Port Authority airports such as John F. Kennedy, LaGuardia, and Newark offer not just free Wi-Fi but unlimited free Wi-Fi.
Wi-Fi Withdrawals Ahead
In this day and age, Wi-Fi has been treated as a necessity. Where there is water, there is Wi-Fi, well we wish anyways. Though the bi-state agency offers 30 minutes of free Wi-Fi, after being stuck in sometimes dreadfully long layovers, 30 minutes just doesn't cut it! There was an anticipated 2.6 million commuters traveled through LaGuardia, John F. Kennedy and Newark airports during the Fourth of July Weekend hat probably would have appreciated not having to use their roaming status to surf the web.  Laguardia, JFK and Newark are among 20 of the busiest airports and represent 3 out of five that do not offer this amenity.
Extreme Wait Times Call For More Wi-Fi Usage
The TSA currently recommends travelers to arrive two hours before take off which means there is more time to sit there and gaze at the wall. The Port Authority currently offers Wi-Fi packages with an hourly, daily or monthly rates. So after incurring the expenses of the plane ticket, the ride to and from the airport, baggage fees, food and what ever else you may need, ow you have to spend extra cash on Wi-Fi!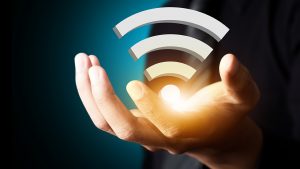 "With customs and wait times on the rise and delays all too common, 30 minutes of Wi-Fi is not enough," said Joseph Sitt, chairman of the alliance. "To bring the region's airports into the 21st century, the Port Authority must equip its airports with this critical amenity for the more than 122 million passengers who use the airport each year."
Sitt recommends the Port Authority adopt Wi-Fi offerings similar to those at other facilities, like Boston's Logan International Airport or Hartsfield–Jackson Atlanta International Airport, which offer unlimited Wi-Fi with intermittent advertisements.
JetBlue got with the program just last year and began offering the service on all flights and within Terminal 5 of JFK.
"It would be nice to have Wi-Fi because the signal is bad at those airports," said Rohit Kottapalli, 28, of Hell's Kitchen. "It should be either one or the other," Kottapalli added. "Either give us free Wi-Fi or improve cell service."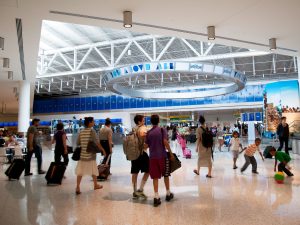 It is said that The Port Authority has been working to improve internet access. In 2014, it modified its agreement with its internet provider, Boingo Wireless, bringing $3.8 million in hardware and software improvements to launch its 30-minute free Wi-Fi service. Through email, Port Authority spokeswoman Cheryl Albiez did not seem receptive to the alliance's request to expand.
"The Port Authority already has re-negotiated an existing contract with its provider Boingo to provide 30 minutes of free Wi-Fi service throughout the terminals at John F. Kennedy International, Newark International, LaGuardia and Stewart International airports, while improving service speed and reliability for travelers," Albiez said.