So it's the night before the big day, and you and your wife invite all your friends to a night of fun, and wildness, where you want to go party and have a good time with friends. You realize that you all don't have enough room in your cars, so what do you do? You call in a luxury party bus! This service is specialized just for bachelors and bachelorettes because they provide a variety of different options for you and your spouse having one last hoorah.
Party buses are meant for traveling place to place, like to clubs or to the most exotic locations near your city. The seating of party buses are about 25 people, comfortable seats, and leather interior, with LED ceiling lights, TV's, and great sound systems. Clients will not be bored; they will be intrigued with all the entertainment set out on the party bus, it's like having a club built right into it. It's meant for perfect long trips, and not having to worry about anyone driving after a fun night of drinking to help avoid any accidents or DUIs. Large groups of people are set out on these buses because it's affordable, safe and fun at the same time. One of the most luxurious and phenomenal party buses all in Connecticut.  Connecticut Limousine services are committed, to have clients be satisfied with an outcome of quality, safety, and trustworthy transportation.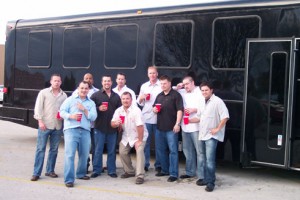 With night club lighting in the interior, you'll be having the time of your life in one of these vehicles. This is a perfect time for you and the group to have a good time and just reserving the party bus for several hours, and going wherever you need to go the night before your big wedding day. And with a limousine service in CT you not having to worry about losing your personal belongings, as you can leave them in the bus, without having to lose anything like your purses, bags, and wallets.
You don't want to miss out on this opportunity, the "party on wheels"…it is never too late to reserve a spot for you and your friends. Book a party bus now and you will be satisfied with the results, with Connecticut Limousine Services.