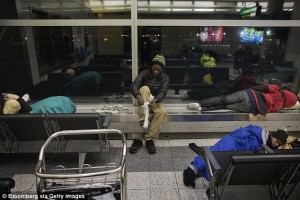 New York City's homeless population continued to rise last year, with the number of homeless people sleeping each night in municipal shelters exceeding 60,000 people, including 25,000 children, for the first time ever! As a result of the overcrowded shelters, the homeless are turning to take shelter literally anywhere.
Homelessness is a huge problem in America and now it is right in our face as we fly in and out of LaGuardia airport. There is no way to disguise this tremendous cry for help! Over 50 people with no where to go have turned to the LaGuardia airport for shelter. As you prepare to board your flight you will notice them making pallets on the floor or in chairs. Even the restrooms are housing these less fortunate.
They are located on LaGuardia Airports terminal B which is accessible to the public 24 hours out of the day without having to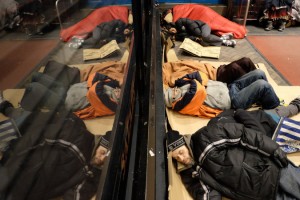 purchase a boarding pass. The workers of the well known airport have complained of witnessing squatters walking around the restrooms butt naked and choose to not use the restrooms while at work because of it. Some are noticed to leave during the day to visit local soup kitchens while others are observed to stay all day.
Through this bad time there is some effort in place to take control of this economic hardship. Mayor de Blasio's plan to address family homelessness aims to move more than 5,000 homeless families out of shelters and into permanent housing which will lead to reductions in child and family homelessness over the coming year.
Some positive steps toward eliminating this economic downfall suggested by the Coalition includes:
The Governor must enhance rental assistance programs that prevent homelessness and help homeless New Yorkers move from shelters to their own homes.
Mayor de Blasio must allocate a larger number of public housing apartments – at least 2,500 per year – to homeless families.
The Mayor must also ensure that at least 10 percent of the housing units created or preserved under his ambitious ten-year, 200,000-unit housing plan are targeted to homeless families and individuals.
Governor Cuomo must fully fund the State's share of a new City-State "New York/New York Agreement" to create 30,000 units of supportive housing for homeless New Yorker's living with special needs.
Time will tell if poverty in NYC will decrease or decline.