JFK airport is certainly joining in on the Christmas spirit this year and Santa definitely approves! This year he decided to leave the sleigh at home and take a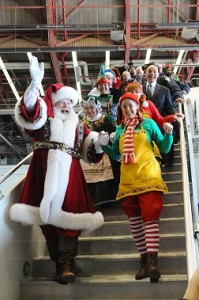 Delta jet to Kennedy airport to fill the hearts of nearly 4,000 special needs children. For decades the NYC area has provided all the communications for the premiere event of their year….Operation Santa.
Community mayors held the annual Operation Santa Christmas party. The Operation Santa program was created in 1875 and in 1957 they focused their Christmas efforts on children with disabilities.
This JFK event is a half a day event where the Community Mayors of New York provide a lunch, gifts, and above all, a
visit from Santa to an extraordinary audience. Each year the event gets bigger and bigger and they can definitely use all of the help they can get to keep these smiling faces happy.